5 Educational Animation Examples for Online Courses
Apply animation in education can enhance cognitive function; increase attention and engage learners. For example, in natural science, animation can show the reaction of atoms. With social science, animation can show how "dry and complicated" economics theories work in daily activities. Math, Languages, Music, Art, etc – all subjects can be applied to animation for better study results.
For the functions in the educational application,  there are three types of animations in eLearning:
Information animations

: This type of videos plays a supporting role in online courses. They focus on visualizing concepts that are often difficult for instructors to teach and for learners to absorb. These animations bring the most value to complicated subjects like science, where various concepts need to be made observable.

Narration animations

: These use storytelling to relay knowledge to learners in an attractive and engaging way. This type of animation is common in K12 education or soft skill training for corporate educators.

Explanatory animations

: This is a mix of two types above. Explanatory animations use their powerful narrative ability to shed a light on complicated concepts. Because of this nature, this type of animation is more complicated than the previous two. The educator and animation producer need to work closely together to create a stimulating, enjoyable and yet informative video of this kind. 
Wondering what these animations look like in practice? Here are some examples to give you some ideas.
5 Best Examples of educational animation in eLearning
1. Permaculture Design Online Course
Permaculture Design is a 12-week program specializing in the practical solutions to developing sustainable ecosystems. The course follows the MOOC structure, where most of the teaching materials are in video form. The instructor hence used talking-head videos to deliver the knowledge to his online students. Animations are integrated into the course because of their amazing visualization ability, which helps explain the many complex concepts of permaculture.
As you can see in the video example, the animation plays more as a visual aid tool for his lesson than a narration video. Most animated videos in this course contain a little plot. The main purpose of the videos here is to bring still illustrations from books to life. Because while illustrations and diagrams can serve the same visualization process, they lack the dynamism that draws learners in, and they often require still more time and imagination from the part of the audience to fully explain these concepts. An animated video, on the other hand, lays the process down quickly and clearly, thereby helping students absorb information better.

2. Aviassist Drone Training Course
Aviassist conducts regular classes, both in practical RPAS training and in theory courses. The animations in this program play almost the same role as Permaculture's — they act as visual aids demonstrating complicated concepts in training. The slight difference is that Aviassist's drone training course uses some storytelling elements to walk the learners through the mechanical processes, while Permaculture's animations are plain visualizations.
This example shows the ability animation has to clearly present sophisticated systems such as that of these machines without boring the learners. Using relatable characters and circumstances, the animated video becomes that much more captivating to learners who see themselves in the video. It makes them take in learning objectives better. It's hard not to conclude that storytelling is amongst the best features animation could add to eLearning.
3. Math animations from Bar Model Company
Bar Model Company uses visuals to teach math to children in primary and secondary school all over England. The premise of this is simple: animators help educators illustrate math problems with bar models to help young learners grasp the abstract concepts of numbers and mathematical processes. From there, they'll start to learn how to apply this understanding and solve problems.
Not only does this model make it easier for young minds to understand math, but it also makes the learning process more enjoyable and motivating. How? By thoughtfully using well-loved superhero and cartoon characters! These characters are relatable and appealing to the juniors, and they help turn the math problem into a story that pulls the audience in. And that's everything you expect from the visual supporting aid of an online course, especially in this distracting, digital age.
4. Simple Nursing's Training Program
If you think colorful animations are only for children, Simple Nursing's online resources may change your mind. This platform provides pre-service resources for nurses who are studying to pass the NCLEX and other qualifications. Their aim is not only to be informative and helpful but also fun and engaging. After all, it's much easier to make use of memorizing tips and tricks if you understand it well and find it entertaining to learn them.
Take a look at the video above — instead of simply speaking about all the different conditions and medications, the course utilizes lively animations to spice things up. Not only does this act as useful visual aid tools to demonstrate information, but it also highlights important details by the use of different fonts and designs. For a subject that's so serious like medical, the fact that animation can be used to teach in a creative and entertaining way can make all the difference when it comes to information retention.
5. Accounting Course at UNSW
The University of New South Wales based in Sydney wants to incorporate an innovative way of teaching accounting. By having bite-size animated videos, the teaching staff hoped to break down complex concepts in data analysis and in personal relationships in the finance industry. Particularly, in this accounting course, a perfect combination of information and narrative visual aids help brighten up the learning process as well as stimulate scenario-based learning. 
This video here, for instance, is an example of a narrative animation in education that explores a more human side of accounting. This puts some life into an otherwise dry, number-based subject. Also, too often, students focus on the theoretical side of things rather than the application of financial knowledge. A video like this can captivate students, reminding them that there's more to learning than nailing the maths.
Conclusion
As you can see from these examples, animation in education can improve an online course on every level of academia. From simple classes for K-12 children to complicated university-level education, animation provides a kind of visual communication that helps explain complex concepts at all levels. Colorful character design, storytelling elements of videos can brighten the tone of the virtual classroom and grab the learners' attention. 
F. Learning Studio has had the pleasure to work on all these different projects, and we understand the value that these little clips can bring to a learning environment. With the help of animation in education, learners can be better engaged, their interest piqued, which ultimately leads to better results!
Read Further: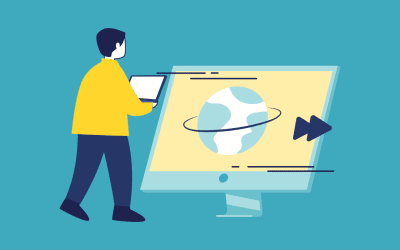 About One QBE One QBE Insurance Group sits among the world's top 20 general insurance and reinsurance companies. Being an international corporation, One QBE needs to develop a consistent internal training course that all employees can have easy access to at...