Hire an animation studio for eLearning? Know these 7 rules first
The first thing to keep in mind when you plan to hire an animation studio for your eLearning project is to differentiate it from other purposes (advertising or movies). The requirements differ from project to project, which makes it harder to choose. Some studios with excellent capability can be unnecessarily costly. While studios in the lower segment might not get the job done even with an acceptable price. So what should you do in order to select the right animation studio for our eLearning project?
Here are 7 things for you to consider before you hire an animation studio: from their expertise in eLearning to the project management ability.
1. Check out their presence on the Internet
Going on Google and starting with the first keyword. "Animation studio for eLearning" or "animation production company" are a good start. From there you can see many articles about the types of studio names and their websites. You can try out some introduction articles and sample videos first. Just by looking at their sites, you already had the first evaluation of their capacity, style, and experiences.
Spend about 1 day walking through as many websites as you can. Write down your first impressions and comments. Also, save your favorite links for your studio list. The list should contain about 10-15 studios. You will need them for later references.
2. Evaluate their expertise in eLearning/education
After sorting out your first list, dig deeper into the studios' expertise. Go to the 'Blog' section. This is where the studios write about their experiences and expertise sharing. Search around for the articles or the videos that resonate with your target audience.
The first thing that signals their expertise about online courses is whether their products have appeared on any eLearning platform. It can be either TedEd or Udemy or even Youtube. Some of the names are Kino bino, F.Learning Studio, White Animation,…etc.
Recommend reading:
You can consider these steps when searching for information:

Do they have many articles and animation videos about the eLearning industry? Do they relate to your target audience? Find and scan through all of them for more information

Ask them for a short consultation for your project target audience. Request some basic recommendations they would give to the given audience. For example: if you are aiming to build a company policy course for corporate employees, ask them what they would recommend regarding each video length, what techniques should be used, how the storyline should be created,…etc.

Evaluate their understanding based on the answers provided. Do their answers clearly address your issues? How detailed was the information given to you? Are their answers structured in a logical way? The recommendations will show how deep they actually understand.
Another way to test the eLearning knowledge is to examine the animation production company's portfolio or its brochure (if you knew them from a convention or met them in person). This time, watch with focus and attention to the details in the videos. What techniques did they use? Is it a 2D animation production company or a 3D one? How the video content was curated? Does the video actually solve the problems that the brief stated?
Last but not least, try to see which clients they work with. If there are many clients in the same field of eLearning, keep them on the list. If they work with only a few or even none of the related clients, then they must satisfy the above evaluation. The list should be narrowed down to 5-7 studios.
3. Don't overlook animation techniques
Don't ever overlook the animation techniques. The technique is essential in your decision to hire any studio, let alone to hire an animation studio. However, with educational projects, it might not be the main focus, but it serves as a tool to illustrate the main content.
Try typographic animation or infographic animation when you need to build a corporate course. Or consider other types of animation techniques that provide more visualization for K12 students' courses. 
One of F.Learning's animation project for K12 student's courses
Listen carefully to the voiceover quality. Almost every eLearning course needs a voiceover since the amount of content of a video can be overwhelming. Keeping your attention to the voice also helps you recognize the right studio for the project. Sometimes, especially with animation styles like whiteboard or screen projecting, voice plays a vital role in the learning experiences.
Still not sure which is the best option for your current budget?
4. Decide on your animation budget and build a comparison board
Present the 3-4 studios you have narrowed down to the team. Of course, your list must include the pricing of the studios. You can take a look at this comparison board for reference: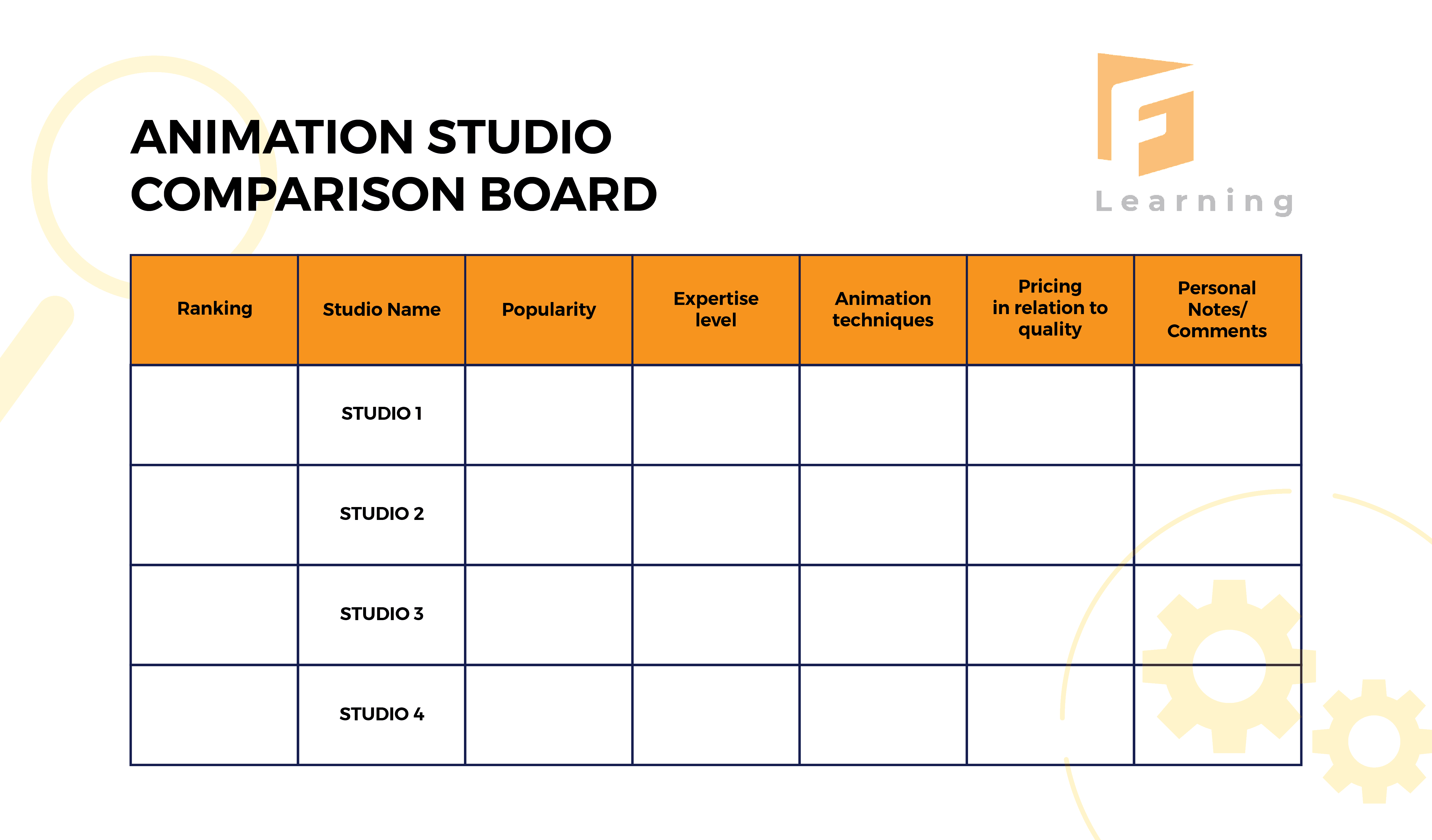 Fill in this template board with your available information. Let the animation price be the final column you fill in with your team. This becomes your tool when discussing with the team and coming to the final decision about the actual budget. You can even let the team vote on their favorite studio based on their expertise (animators, account manager, procurement,…). Organize a meeting for the final 2 studios to compete for your project.
5. Assess the studios' communications and project management skill
Pay attention to the communications and project management skills of the studio. If you agree to go with them for the project, it is necessary to know the working style. Both parties can only work well if they can communicate effectively and manage the project smoothly.
The communications style can be demonstrated through some of the signs below:
Straightforward communications manners: They mean what they say, and they don't want to beat around the bush

Supportive and caring: They provide recommendations focusing on your issues rather than on providing generic advice like "You should do a 2D animation video for your students because it is the most cost-effective."

Always ask for clarification: They don't try to guess what you mean; they ask so the work can continue smoothly.
Ask your questions NOW and get answered

within 12 hours!
The project management skill can be explored by asking former customers or conducting a Google search regarding the studio's past incidents. Tips exhibited by a good project management studio include:
They rarely miss deadlines: It demonstrates their ability in time and resource management.

They set clear objectives and goals from the beginning: This avoids unnecessary conflicts that might arise during the progress.

They foresee risks and ways to mitigate them: They prepare backup plans in case the first execution plan does not go as intended.
Reach out to former customers of the studios for actual feedback. This way, you can obtain in-depth feedback without the limitation of publicity. Ask them about their experiences with the studios, especially about the way they communicate and how they manage the project. It is best to pinpoint the studios' style so that you can decide which working style and ethics match your expectation.
6. Request a Demo Reel or Showreel
Ask the studios for a demo reel or even the main producer's showreel. This helps you define exactly what type of studio they are. The understanding of the brief and the delivery ability will be shown in this.  Like the below example, F.Learning shows how this studio created animation videos for science online courses:
Moreover, communication skills and project management skills will be tested through this demo. Observe how they receive the brief, how they interpret it, and how they make it happen. The studio's supportiveness during the process should be highly appreciated and be an evaluating point. Compare the 2 studios and decide what working style you want to go with.
7. Arrange a consultation session to get to know the studio
Discuss how many projects they handle at the same time. Although the studios of your choice may match all the criteria, they might be too busy to complete it with care. Make sure your vendor understands and respects your deadlines. Let them know you want their full attention to your project. 
Order a consultation session with your last 2 studios. After the demo reels, have a meeting with the studios to discuss your feedback. You – the project manager should set the expectation for the vendor right from this point. 
Take note and discuss with the team after each session. When attending a consultation session, it is best to go with a colleague to avoid biases. You and the colleague will provide the team with comprehensive perspectives on how to hire an animation studio that is the most suitable.
Conclusion 
Carefully selecting your animation studio increases your ability in managing the project risk and resource management and animation cost. Additionally, by building a strict animation studio screening process, you can prevent situations like the studio ending the contract before the project's ending or lengthening the project timeline more than needed. 
Read more: 
Ready to kick off your
animation project
without worry!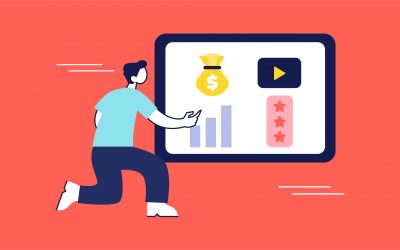 When it comes to applying animation to an educational course, deciding on an animation budget is a difficult thing. If you've done your research, you probably noticed that animation studios often don't publish their pricing on websites. The reason is that...