Why You Need Animated Infographics In eLearning
The development of technology has given rise to many game-changing learning tools, including infographics. Many people are training to be a good infographic maker. In this article, we'll explore the great advantages of animated infographics over static infographics, explain why you need animated infographics in eLearning. We'll also suggest some of the best animated infographic design tools for you!
1. What Is an Animated Infographic?
Animated infographics resemble static infographics in that they show data, trends, and ideas through compact presentations of words, pictures, shapes, charts, and symbols. So, unlike static infographics, animated infographics show information in motion. They are mainly used to illustrate processes or systems in which the parts move and work with each other.
Animated infographics are either in the form of gifs or videos. Therefore, sounds can be incorporated to present information better. This makes animated infographics great audiovisual materials in teaching and learning.
This is an animated infographic video made by Dell to show how their Big Data Solutions can help organizations manage data and turn them into profits. This animated infographic has a voiceover that explains things as the pictures appear in the video. The voice narrative and the pictures make it easier for viewers to follow the ideas.
2. Why Are Animated Infographics Better Than Static Ones?
Animated Infographics Explain Movements Better
Imagine you need to teach your students the working mechanism of a car engine. You can try presenting the system via a static infographic. In this case, what you can do with a static infographic is dividing the mechanism into steps and elaborating on those steps with a lot of words. You can't avoid using many words here because the car engine system is complex and you have to explain how each part moves to serve their purposes. Your students have to imagine the movements, read words and listen to you the same time. Chances are they won't be able to understand how a car engine really works.
This is where animated infographics come in handy because they are the best at depicting movements. Your students can see how the parts of a car engine move like in real life without having to imagine or make assumptions. Human brains are good at detecting movements and remembering them. Therefore, your students will not only understand the lesson but also remember it better.
Animated Infographics Are More Engaging and Viral
People are naturally more attracted to moving objects than static objects. When they see something moving, they will pay attention to it and watch it for at least several minutes to see what is unfolding. Movements make people curious, and that's why many of us prefer watching movies to reading books. It is the story-telling characteristic of moving images that hold people's attention, especially young students.
Animated infographics are generally shared more than static ones. People treat animated infographics like videos. And videos' sharing rate on the Internet is always the highest.
3. Why You Need Animated Infographics In eLearning
Human Brains Learn Better with Visuals
Our brains are wired to capture, retain and recall visually clear information much faster than simple texts. Almost 50% of the brain is activated when visual processing happens. Our eyes house 70% of all the sensory receptors. It takes only 250ms for us to make out the meaning of a symbol. These statistics show that our brains understand and remember visuals better than texts.
In addition, a lot of studies have shown that an average person can recall up to 2000 pictures days after first seeing them with just a little bit of focus. So, online learners benefit from infographics not only because they can understand information faster but also because they can recall a lot of things for later use.
Moreover, our brains have evolved to find patterns and make correlations between things in the environment. It means that when infographic content is arranged smartly, learners can easily spot the connections between separate pieces of knowledge and really grasp what they study.
Animated Infographics Are Interesting
In teaching, it is crucial to get students' attention and arouse their interest before presenting them technical details that are likely to make them fall asleep. Infographics have beaten conventional texts and videos in terms of making knowledge more interesting. It's possible thanks to the interactive and design elements of infographics.
A lot of cool infographics allow learners to trigger animations as they scroll through the content. Some of the best infographics give learners the choice of highlighting certain areas of knowledge they wish to focus on. Designers can also ask learners to participate in their infographics by filling the blanks and answers of some sort would be generated.
A big advantage of animated infographics in eLearning is creative design, which helps to capture anyone's attention at a glance, let alone those who really intend to study. There are multiple ways to give a static symbol fun motion that not only amuses learners but also shows them how things work. A good infographic design can raise readers' curiosity and make them feel eager to learn. Animated infographics are a nice way to welcome people to knowledge.
Animated Infographics Are Easier to Study
Infographics can be really good teachers because they present information in ways that facilitate learners' true understanding. This is achieved by making abstract notions simpler to grasp. For example, when there is a need to explain the concept of "globalization", infographics can be used to show key symbols connected with an aspect of the concept (deregulation, transportation, etc.). And those symbols can be linked by lines or arrows to highlight the connections. Moreover, a voiceover can be inserted to clarify more details.
Another way that infographics help to depict complicated data is categorizing subtopics in an organized manner. A lot of knowledge fields have multiple branches of smaller topics that need to be dealt with. Infographics allow designers to put those subtopics into place and add an interactive element for learners to choose what they want to view first and hide what is unnecessary to them.
This way, multiple subtopics can be positioned in a single infographic without confusion. And the benefit of having key information in one place, ready for interaction is huge. Learners would not suffer from cognitive overload, the sense of disorganization, and the long weary time spent to compile everything manually.
6 tips to create stunning eLearning Animated Infographics
Helpful but easy-to-follow tips to create attractive animated infographics. Make sure to download it!
4. Some Tools to Create Stunning Animated Infographics
This tool is endorsed by major organizations such as Dell, Google, Walmart, Adidas, Ford, etc. It helps both amateurs and professionals tell compelling stories of their data. It has a collection of 1000+ icons, 3000+ maps, 100+ charts, and multiple styled characters, texts, and so on.
There's no need for any prior knowledge to use this tool because the company provides detailed tutorials and the interface is simple. They also help the very beginners create high-quality video infographics for education, business, journalism, etc.
The software is coded in various languages. This helps the company extend its reach to more customers. One of the best features is the personal support service. An individual or organization can ask the Animaker team to design unique templates, characters, texts, etc. without personal service.
If you don't want to pay for something too professional for your purpose, you can use Visme for free! This does not mean the graphics are of lower quality than Animaker. In fact, Visme is known to be a free, easy to use tool with high enough quality for most of its users.
The free version of Visme is best used to create animated infographics rather than video infographics. You can choose from more than 100 free fonts, millions of images as well as thousands of icons. There are multiple charts and maps options. There are also diverse free templates.
You can insert multiple media such as audios, videos, surveys, etc. to your infographics. Visme also makes your animated infographics in eLearning more interactive by allowing pop-ups and many other features.
This is another free online tool for you to create stunning animated infographics. Venngage offers thousands of free templates in high quality so that non-designers don't have to spend lots of money hiring professional designers.
Animation options are easy to use, and you can export your infographics in multiple formats. The company updates templates every week to accommodate their customers' diverse needs.
Conclusion
Animated infographics will always play an important role in the classroom and any other areas where data need to be conveyed more effectively. Static infographics have transformed the way we present information, but animated infographics in eLearning take data presentation to a higher level. Designing an impressive infographic has become a valued skill, especially for modern teachers.
Read Further:
We help you create infographic videos for your course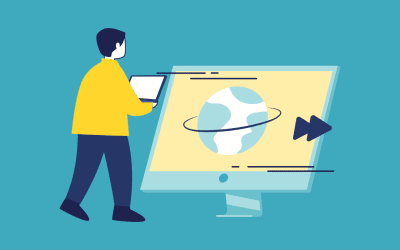 About One QBE One QBE Insurance Group sits among the world's top 20 general insurance and reinsurance companies. Being an international corporation, One QBE needs to develop a consistent internal training course that all employees can have easy access to at...