Structuring your online course to encourage active learning 
How should you structure your online course to fit the ever-growing trend of active learning? The key to this kind of learning is the Pull Structure, one of 4 key factors of a successful eLearning course. It encourages learners to pull out the information that they value and want to know from the course, rather have the information pushed on them. 
So what should such a course look like? Which sections should be included, and where? And how can course creators maintain a balance between the freedom of the learners and the main aim of the course? Here are some tips on creating an online course structure for active learners!
Micro your course and highlight the result
Micro-learning means focusing on smaller tasks and goals. Moreover, it creates a chance to bring your course into learners' daily lives. By doing this, you encourage them to actively think about your material more!
What the micro-learning course structure is like
A micro-learning course isn't built around a series of theory-based learning objectives. Instead, the course designer bases the structure on regular goals and tasks that are to be achieved and completed throughout. These don't have to be big – smaller, bite-size goals are actually preferred! 
Application of micro-learning in structuring online courses
Think of an online language course, like Duolingo. Here, learners take on daily 15-minutes lessons where they review vocabulary or practice reading or writing. These are not time-consuming, and easy to do. Besides, the learners could do the task at any time in their day, even when commuting. The video below briefly explains this online course structure. 
(Source: Duolingo on YouTube)
Thus, your course could be structured this way, too! Why not adopt the micro-structure to keep your learners from facing information overload? Believe in us, it will work, especially when you don't tell them what must be learnt but let them pick up on it with the long-term process. 
Tip: Add little acknowledgments and encouraging messages to let learners know that baby steps matter!
Remember to let them know that by the end of your course, their understanding of this certain topic will have been transformed. It can be easy to see little use in small tasks without a view of the grand scale of things!

Include real-life examples and situations
As part of your course, include sections where you use real-life scenarios and events. Why? 
1. Because they provide a break from theories 
Learning is often about theories. It's so abstract and sometimes difficult to grasp. So, to demonstrate theoretical knowledge's usefulness in everyday life, give real-life examples and scenarios. Once the knowledge is useful, learners will want to note it down!
2. Because relatable information is easy to remember 
People will remember things better when they can connect them to other things they already know. In other words, real-life contexts make theories more relatable and so more memorable. This is how learners might even pull out the information without even knowing it. 
(Source: CrashCourse on YouTube)
For example, this CrashCourse video uses the operations and competition of well-known brands such as Android or Apple to explain market structures. Knowledge becomes more memorable when tied to things in learners' lives, like phones and laptops. 
3. Real-life situations could help kick off critical thinking! 
Here you can make use of the micro-learning method! For example, create small thought exercises that require learners to think critically about certain real-life situations and suggest suitable solutions. It's useful because it's a way to give knowledge a meaningful context and so motivate learners to pick up on it.
Tips on how to present examples and scenarios in interesting ways 
There are various ways to present and deliver these examples to your learners. You can use videos, infographics or news clips/recordings to spice things up. Many people find visual aids and animations more refreshing and engaging in learning processes! 
Lock navigation to ensure your online course is effective 
While the Pull Structure is an attempt to increase students' freedom in their studies, you should still be in charge of the progress. Think of it this way: a great quality course is one which manages to transform the learners' understanding without pushing information on them and giving them little freedom. 
To do this, lock navigation at crucial knowledge points to ensure that the main aim of your online course is achieved. This is where you can check whether learners have picked up on the essential points of your course. Also, it enables you to see how well they know the material. For example, try to add a quick quiz at the end of the course. Thus, it will be a nice summarizing final stage in your online course structure. 
Leave some room for interaction!
Online courses are flexible and can be a great place for discussion. When learning online, learners have an opportunity to connect despite their different lives and schedules. So use this room for discussion to your advantage when structuring an online course!
How do discussions encourage active thinking?
Interaction and discussions are crucial in a Pull Structure course. It's because they allow learners to exchange ideas, debate and reflect on their own understanding and progress. So, if you could create a place for discussions, your course could be more engaging for learners. 
Tip: Include some interaction throughout
Add interactive sections to the beginning, middle and end of your online course structure where you can hear from them, or where learners can learn from each other. To better apply this tip, try the KWL model (it stands for Know, Want to Know and Learnt). 
To be more specific, at the start of your course, ask learners to list out what they already know about the topic. Then, ask them what they want to know. In the middle of the course, you can create a discussion board about what they've learnt so far. At the end, ask them to reflect on what they've learnt. 
Moreover, allow learners to share their reflections with each other and not just you. As a result, learners might find more interest in the material and extract more knowledge.
Conclusion 
So that's it! Making use of the Pull Structure essentially helps your learners pull out the information that you want them to learn. Here are the basic points to keep in mind when coming up with an online course structure for active learners:
Use flexible, bite-size daily tasks to be more engaging 
Add practical examples to demonstrate information's usefulness and are memorable
Check the course's effectiveness regularly
Remind your learners of their progress and improvement
Hopefully, with these simple points, you can build an effective online course. Should you need more help in the process, feel free to check out our blog for more tips and advice! 
Read Further:
Subscribe to our newsletter
Get more expert animation tips and valuable eLearning resources straight to your inbox.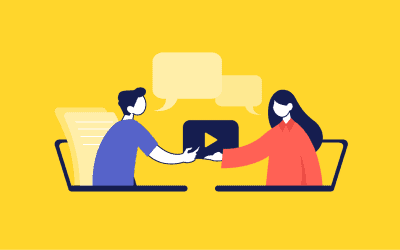 Selecting a vendor is not as simple as picking a vendor nearby or choosing the cheapest one. It's a process that requires detailed criteria. A good vendor will give the quality at least meet your eLearning agency's expectations. However, a great vendor will...