Custom Animated Videos: Why should you opt for high quality?
Custom animated videos could do wonders for your course. They give online students new experiences and engage them throughout the learning processes. However, the tailor-made products hardly come as easy, and they are indeed costly to create. A 5-minute custom animation could be up to thousands of dollar depending on the quality of the work. Hence lots of educators use template software as an alternative to the custom ones. Those applications are cheap, user-friendly, and they do work amazingly to some extent. But if you are more serious about the excellence of your work, the custom animated video is a worthy investment.
Custom animated videos vs. DIY Template Animations
Template animations are those generated by applications such as Vyond or VideoScribe. These are different from the professional animation makers. They provide pre-made assets with a drag-and-drop system so that anyone could make their own animated videos. A person with no animating background could make a proper video with these tools. And those with experiences in design programs like Adobe Suite products could enrich their work with additional details and effects.
Custom animated videos are tailored products from an animation studio, production team or freelancers. While template animations are limited in the asset library, tailor-made products set no boundaries to the videos. You can visualize anything in your mind to the screen, and breath life into the craziest ideas to make it work. This type of animations hence requires more human and financial resources. They are most beneficial to subjects like medication or science. Animations could explain a  scientific process with ease by visualizing the elements and putting them in order. 
Why should you opt for high quality?
1. High quality to engage the audience
Technically, custom animations look better than the template animated videos. It does not mean that the template ones have an unappealing design. They are beautiful indeed. However, they could hardly achieve the smooth movement of tailored work. With custom videos, the animators could use various tricks to breathe life into their work: adding in-between frames to make fluid actions, bouncing the effects to create lively characters, changing the transitions continuously to refresh the experiences, etc. However, template animations are generated with pre-programmed animating actions, which means they are rough. You would notice a sudden change of actions with little connection.
In fact, if you have skills in designing or animating, you can enhance the visual design of videos by DIY software. However, not everyone is granted with such skills, and most instructional designers lack this critical "design" aspect. Hence, the template software is easy to use but hard to master. Think of PowerPoint – a beautiful presentation maker that is used by millions all over the world. The appearance of a good slide depends mostly on users' experiences. If you have good skills, you have a creative and engaging presentation. If you don't, well, it could get crappy. Similarly, DIY animation creation tools require some skills to make it look great. You still may need the help of professionals to create animations that work for your course.

When you produce an educational animation series, lower-quality of animations could irritate learners, especially if your students are hi-tech millennials. The development of technology raises the standard of graphic design rapidly. If you show them 2018 materials with 2008 effort, it could negatively affect their learning experience.
2. Set no boundary to your creativity
Animations are the work of creativity. With those template tools, you would have to work with the scripts to fit the tools. Although the library of the animation assets is enormous, you still have to find a way to work with limited resources. If you have skills in designing, then you will have more control by using third-party tools to produce additional elements for your video. If you don't, then the animations would lack depth and become a somewhat fancy version of the slide presentation, which produces little extra benefits compared to the slide itself.
Custom animation, on the other hand, is a game changer. You can control whatever you want on the screen. Hence instead of trying to make the script fit the tools, you can leave the animation work for your production team and focus on the messages and the learning objectives of the video instead. 
Free Checklist: How to tell good animated learning videos?
Quick guide to help you identify and evaluate quality of educational animated videos.
3. More time on insightful animations
Beautiful animation can become a fancy distraction if not done right. So whether you create template animations or custom animated videos, it is utmost essential to fill the videos with learning objectives. The learning objectives would help you create consistent materials, set the goal for assessment, and make sure you do not waste resources on just fancy visual.
So to make a truly effective animation for education, instead of playing multiple tasks, you should focus more on the purposes of the video than how it is presented. Visual is a great communication tool for your students, but not many instructional designers master the design skill. Otherwise, your animation partner is professionals in visual design but they have little experience in course building. If you work together, then you can make the best out of animations.
4. Branding benefits
If you are an individual teacher, branding may not come as your priority in the career. However, if you want to create a sense of professionalism for your image or the visual identity of your educational organizations, tailored animations could level up the standard of excellence.
Tailor-made products may take more time and effort, but they reflect on how you are serious about the quality of your services. Template work is impressive but they provide little branding benefits. Since everything is pre-made, you will face the risk of looking exactly the same as your competitors (oops). Even though most template animation software have various styling options, the customization is not good enough to make a difference.
Then with a fully-custom animation, you could create beautiful animations that manifest your branding value. High quality may improve your profile in the local community and build the trust of the students. Some advantages custom animations could add to your company are:
Match the video tone with your branding color

Add your mascots (if available) to help audiences identify your brand

Keep the visual concept consistent with your branding guideline

Create appealing characters as your target audience's tastes

Change the tone of the video with your brand spirits
For example, if professor McGonagall wanted to create an online course for Gryffindor, she could order a video with scarlet and gold tone, lions and wizards as main characters, and a brave and adventurous spirit. That is some features template animations could hardly achieve.
Conclusion
Template animations are an excellent alternative if you are looking for a nice additional learning material for your class. They are fun, affordable and user-friendly. But when you want to step out of the comfort zone, be creative and create more sophisticated animations instead, the custom animated videos could be a worthy investment. They raise the standard of your course and show that you are truly serious about your work.
Read Further:
Contact us for free consultation on how to create effective animations for education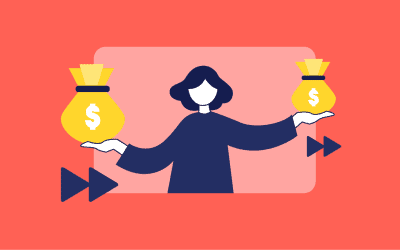 How much does a 2D animation cost per minute? If you google and search around, you will find different options, ranging from $30 to $300,000! In this article, we will discuss what you receive with different price ranges and point out your best investment.   $30...