Audiovisual Materials in Online Teaching and Learning
Audiovisual materials in teaching and learning are teaching aids that facilitate learning through hearing and seeing. Since humans receive information mainly via the ears and the eyes, it is best that students learn from audiovisual materials than just audios or visuals separately. The demand of finding out common types of audiovisual materials and how to use them in online classrooms are, therefore, important to many teachers, tutors, and students as well.
What are types of Audiovisual Materials for Online Teaching and Learning?
Presentation Slides
People widely agree that presentation slides are an effective audiovisual material in teaching and learning. They're not only the popular nowadays, but they also contribute to online education in numerous ways. Take PowerPoint as an example. You can make and share amazing interactive videos using tools like Office Mix. A fun and memorable presentation can be created via PowerPoint's animation effects. They range from quizzes to custom animations. What's more, presentations in the ppt/pptx format are easily converted into other common formats such as .pdf, .doc, .docx, .mp4, etc. Also, the Microsoft Office PowerPoint software and other slide-creating tools are constantly updated to meet the increasingly diverse learning demand of the modern world.
Animated Infographics
Graphics that are used to convey information are known as infographics. Many of us are familiar with static infographics, which are basically static images showing data, trends, ideas, questions, etc. But not everyone is familiar with animated infographics, which are the combination of numerous static infographics for beautiful, vivid movement of information. In online classrooms, animated infographics are more and more popular because they can depict a concept or a sophisticated process using motion. Teachers can use animated infographics on almost every subject. For example, in Maths, animated infographics are very helpful in teaching and studying geometry where motion is needed to show the 3D aspects of a cube. Another example is Biology; animated infographics help students see through the human body and internal chemical processes so that they can comprehend lessons in the easier way. Animated infographics can be in the .gif format or any video formats. In fact, these live infographics are among the most powerful audiovisual materials in teaching and learning. They not only present crucial information in a creative and compact way, but they also offer amazing interactive features which allow learners to trigger the animations by themselves, highlight areas of focus, do quizzes, make changes, etc. Compared to presentation slides, animated infographics have the better edge of high interactivity. Also, many students find it easier to process infographics than texts on slides. These are the reasons why you need animated infographics in e-learning.
Videos
Motion pictures are currently the most popular means of spreading information. Students have long been fascinated by the use of films both in online and offline classrooms. There are multiple types of videos that an online teacher can use to serve the lesson: movies, documentaries, animations, interviews, webinars, etc. Videos are considered better than presentation slides in terms of the entertainment factor. Also, motion pictures help students understand and assimilate knowledge faster than mere texts. All in all, we can find most of the audiovisual materials in teaching and learning online in the form of presentation slides, animated infographics, and videos. These three channels are indispensable to a well-designed online course.
What to benefit from them?
Enrich Experience
Audiovisual materials in teaching and learning online help students experience the knowledge rather than just get to know it vaguely by the spoken word or boring texts in books. Students sitting in a physical classroom might not have the chance to be exposed to audiovisual materials in teaching and learning because their main information sources are the teachers, offline classroom games, and textbooks. But online students are much more exposed to audiovisual teaching aids. These aids allow students to see, hear and interact more with what they are studying. There are no cultural or geological barriers when it comes to audiovisual materials in teaching and learning online.
Stimulate Interest and Participation
Imagine an online classroom where the students mainly answer teacher's questions, read textbooks, listen to audios, do some exercises and occasionally play an online game together. This study session would bore many students to death due to a lack of stimulating audiovisual materials in teaching and learning. Instead of showing still texts and teach like in the traditional classroom, online teachers can use interactive presentation slides or animated infographics which students can actively participate in and build the lesson together. Online student motivation is the key to online education success, and audiovisual aids can help teachers extend their influence in the classroom.
Facilitate Better Learning
The human brain processes visual information very efficiently. About half of our brain is involved in identifying and analyzing visuals. We can understand a symbol much faster and more easily than plain words. Audiovisual materials make a long-lasting impression on students' brains. Thus, they study visual materials much better than non-visual ones. For example, a student examining the working mechanisms of a car engine using animated infographics would take less time to grasp the details compared to a student just reading from books.
What are their poor facts?
Student Distractions
Distractions affect negatively learning outcomes. There are many cases where the visual or audio effects of the teaching materials take the spotlight away from the teacher, who is explaining key concepts of the course. So, audiovisual materials in teaching and learning online are a two-edged sword. They can be too entertaining and divert students' attention from key points. Take movies as an example. They are an almost ideal tool for teachers to drive home the lesson of the day. But, playing a captivating animation without methods to guide students' attention to the right details would not produce the desired learning outcomes.
Time
Good audiovisual materials in teaching and learning do not just appear out of thin air. It takes time and practice for a teacher to design multimedia materials that serve the lesson well. For example, to avoid the "death by PowerPoint", a teacher has to upgrade his skills in creating advanced PowerPoint slides that can deliver the lessons in interesting ways. This means spending time and even money on learning the skills. This is not to mention the upgrading of the teacher's materials because to maintain the fascination factor; he cannot just present the same material again and again.
Conclusion
Now you know the basics of audiovisual materials in teaching and learning online. Keep learning about audiovisual instructional aids and even better, trying your hands on some animation tools to create stunning online materials by yourselves. These skills will always be relevant in this increasingly modern world. If you have any questions to ask us, leave them in the box below. Even better, let's share our post if you find it helpful! Thank you for reading!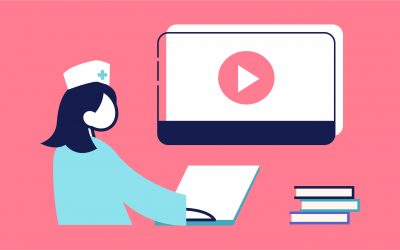 About Intelycare Intelycare is a US-based company that sets out to end the open-and-last-minutes nurse shortage using state-of-the-art matching technology. Seeing the trend as well as the rising demand of the market, Intelycare seeks to better its Nurse Training...