Why online student motivation is important?
Online student motivation plays a vital role in students' enrollment, engagement and learning outcomes. Motivating students, however, is a challenge that teachers have to face every day. This is even more challenging for educators that are launching self-paced online courses when teacher-and-student connection or peer-to-peer interaction is greatly limited. Without a good engagement strategy, online learners could easily drop out losing their interest in the lesson, feeling isolated or disconnected.
ACADEMIC LEARNING OUTCOMES
Motivation comes from many factors such as the presence of instructors or inspiring teaching materials. Some courses give students a short break with funny and informative animated videos or games. It is proven that giving a short, fun break during lessons will boost blood flow, send oxygen to the brain and help learners retain better information. Moreover, engaged students will have better grades, clearer objectives of what they are learning. Therefore, they have the motivation to study and achieve a higher level of understanding the materials. This applies to everyone from children to adults. If one takes interest in a lesson, he will exceed the learning performance.
BEHAVIORS AND EMOTIONS
Learning outcomes isn't all about the academic result. Motivation boosts way more things that have a direct relation to student's educational career and life such as behaviors and emotions. Motivated students feel more belonged to the courses. It encourages them to put more effort in their work and even promotes self-studying awareness. Apart from that, adding the fun element to courses with multi-media channels like animations develops learners' creativity, sympathy, and rational thinking.

COMMITMENT
Completion rates are a raising matter in not only classrooms but also online courses, especially the self-paced ones. Self-paced course is for students to learn at their own pace. This gives them better control of what and how they are studying. However, it is most effective for people with high self-studying awareness.
So what's about normal people with decreasing motivation?
Obviously, we need a nudge to encourage them to study deeper and stay committed to the course. Online student motivation element plays an important part here. Give your students something to relieve their stress, to take a break from all the information but still benefits them academically, just like animation. Showing random animations to your students doesn't work. Present them something which is highly relevant to the courses.
There are various ways of online student motivation. Online courses should not only be academically informative but also engage students. Apart from great courses content, adding a small change like an animated video could do the trick!
Read Further: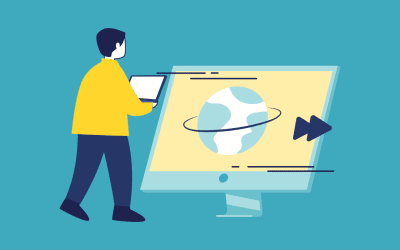 About One QBE One QBE Insurance Group sits among the world's top 20 general insurance and reinsurance companies. Being an international corporation, One QBE needs to develop a consistent internal training course that all employees can have easy access to at...