[INFOGRAPHIC] How to make visual communication in eLearning effective?
Visual aids is not simply something "nice-to-have" in an online course. Ideally, effective visual aids (i.e, educational animation with beautiful illustrations) could help create communication for your teaching materials. In other words, visual content should capture your learners' eyes with attractive graphics to better explain the information. Also, it could connect with learners to deliver your educational message for better learning outcomes.
However, it isn't easy to build a lesson with engaging and exciting visual communication in eLearning. To be more specific, you will not only need a skill in translating written content into visual one. But you also should have graphic designers' sense and experience.
Sound too difficult?
Worry not because you have our help here! Followed after is a list of essential tips that are particularly helpful in creating visual communication in eLearning. Check it out!
7 tips to create effective visual communication in eLearning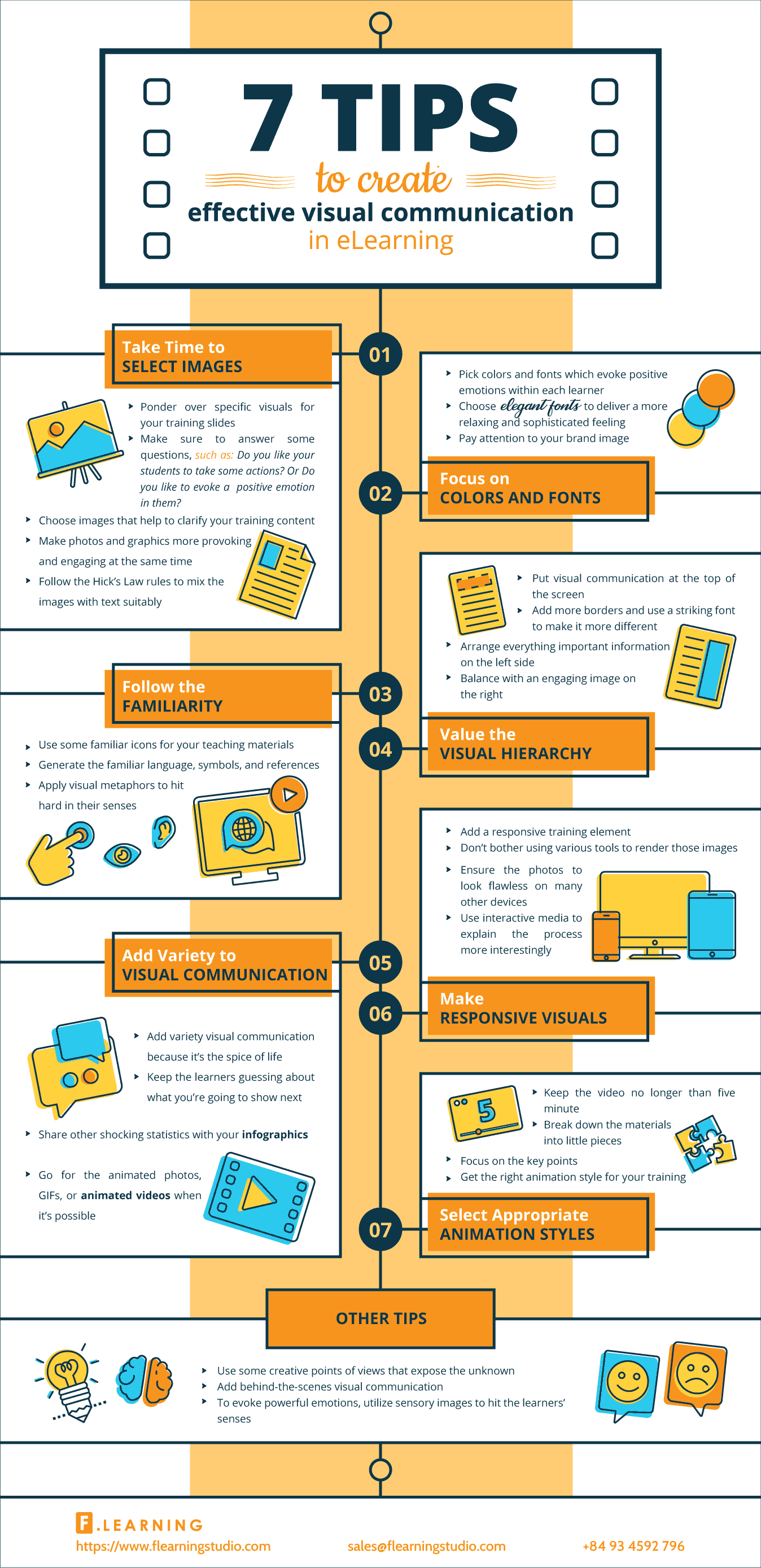 Read the original article of this infographic here: 7 Tips for Outstanding Visual Communication in eLearning
That's how to create effective visual communication in eLearning. However, just taking a look at some essential tips couldn't make you a master. Pay attention because there are some visual issues arising that educators could take when using visual design for an online course. For example, choosing too much visual aids at once (i.e graphs, charts, animations) without a clear objective could not communicate your idea.
So keep in your mind these quick tricks when choosing visual aids:
Use

image

or

graphic design

 to visualize abstract information or make it more beautiful

Charts and graphs

suits to present a bulk of data or the trends, the percentages or relationship between subjects
Audiovisual contents as

animated infographic or gif

are needed for better learning experience of complicated concepts
Video learning as

self-record or animation

 will be perfect to simplify information and communicate to the learners.
Especially animation could help bring effective fun and engagement to the lesson.
6 tips to create stunning eLearning Animated Infographics
Helpful but easy-to-follow tips to create attractive animated infographics. Make sure to download it!
Real example of improving eLearning course with visual communication
Leadership and management skills are hard to train and often lack of engagement. Integrity & Values, an acknowledged global leader in leadership coaching has soon realized the problem of "talking-head" videos. Therefore, they would like to upgrade their course to make the content that itself is complex and dry becomes more interesting and practical.
Being aware of positive impact of educational animation in training, they came to action of creating a couple of versions of animation by themselves using DIY software. But, because of lacking professional sense, the animated videos didn't reach their expectation. Specifically, they were not engaging as well and took such a long time to create.
How did they advance their visual communication in the training course?
When they came F.learning Studio, we suggested they to use 2D motion graphic style that is more beautiful than whiteboard animaion and could increase brand awareness through the color. Most importantly, the animations created assure 3 things below:
Keep professional vibes of the training course
Bring better experience for learners than previous talking-head videos
Engage and motivate learners to actually finish the courses
Read Further:
Subscribe to our newsletter
Get more expert animation tips and valuable eLearning resources straight to your inbox.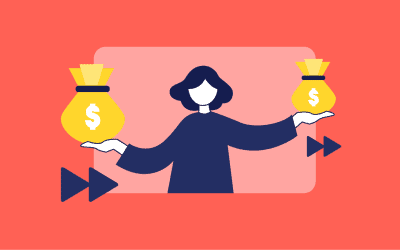 How much does a 2D animation cost per minute? If you google and search around, you will find different options, ranging from $30 to $300,000! In this article, we will discuss what you receive with different price ranges and point out your best investment.   $30...