7 Tips for Outstanding Visual Communication in eLearning
Nowadays, students love learning via videos and photos. That's said, the power of visuals is undeniable, especially when it comes to designing e-learning courses. But visual communication in e-learning is not just about making something illustrative and attractive, but it's involved in various skills, such as graphic design, voice-overs recording, etc. In this post, we'll take you through great tips on building visuals that will help to improve your teaching outcome. So, let's take a closer look at some of the best practices as follows:
Making Visual Communication for Your Teaching Materials
First of all, one thing we need to clarify is that visual communication for education is used for making the whole training more engaging and exciting. Yet in fact, it is often overlooked in most course developments. It doesn't mean that most professionals don't like to increase the aesthetic appeal of their courses. But it's only because such an element is pretty low-ranked in their to-do's list.
However, creating an e-learning course with visual communication won't take that much time! There are some basic tips you can apply to the design of your course. Let's see what they are:
Take Time to Select Images
Getting images will never be an afterthought, particularly as it can drive your learner's engagement throughout the course. A relevant and interesting image is a strong tool that not only gets most of the student's attention but also satisfies most learning objectives effectively.
Here are what you're supposed to do:
Ponder over specific visuals for your e-learning slides to find out what kinds of messages you'd like to convey to your learners.
Make sure to answer some questions, such as: Do you like your students to take some actions? Do you like to evoke a positive emotion in them? Based on these questions to select a relevant image.
Choose images that help to clarify your teaching content and boost the whole learning process.
Make photos and graphics more provoking and engaging at the same time to raise the general knowledge absorption.
Lastly, follow the Hick's Law rules to mix the images with text suitably.
Focus on Colors and Fonts
Both colors and fonts are important elements that improve your visual communication in e-learning. Though they appear as the little details that don't seem to rank high on every list, you still need to pay attention to them. Fonts and colors are trusted to evoke positive emotions within each learner.
For example, if you love to increase your learners' creativeness, try to use the orange for the font. This naturally represents the optimism in communication during the course.
Meanwhile, red is good to catch your students' attention or when you want to send them an urgent message. Also, for emphasizing key points that should be learned instantly, think of red again. Take this as an example of the fonts as well. Choose elegant fonts to deliver a more relaxing and sophisticated feeling.
Follow the Familiarity
It increases the comfort if you decide to use some familiar icons for your teaching materials. Icons will help your learners easily detect the similarities, patterns, and more. As a result, students can understand and absorb the information better as well as keep them in mind for the longer time.
To make your course efficient, make use of the familiar language, symbols, and references. Do not let your learners be scared of the course but only looking forward to it.
More importantly, let's give some visual metaphors a shot, which is commonly comprehended. Since the learners won't share the same cultural and life experiences as well as thoughts, it's essential to make use of them to hit hard in their senses.
Value the Visual Hierarchy
There's no need to be an expert in creating visual communication in e-learning. What you must know here is what shows up first on the page! This allows the learners to pay more attention to the most crucial key concepts you want to convey. So, don't bother highlighting any idea and other materials by simply putting them at the top of the screen.
Doing so can help them stand out from the rest of your teaching materials and images. Besides, feel free to add more borders and use a striking font to make it more different. But you also need to memorize that most learners tend to read from left to right, meaning that anything on the left side should be taken as a top priority.
Note that this doesn't mean that your content needs to be put on the upper of the screen because it can't create balance for your teaching show. Simply put some pieces of data on the left and don't forget to balance it with an engaging image on the right.
Add Variety to Visual Communication
People commonly love to add variety to their conveyed messages because it's the spice of life. Nobody denies such a thing, especially when all of you love to move out of daily routines. So, your learners would love that as well if they are given some visuals.
Moreover, following some specialists and using a variety of visual communication during the learning process can help to reinforce the information several times. Let's keep the learners guessing about what you're going to show next. In this case, they often get more engaged with your course and soon get rid of the boredom.
Do not be shy to share other shocking statistics with your infographics. Doing this will be more effective because human's brain can process the visual sixty thousand times faster than the text. These also allow you to display a huge load of information interestingly by using text and images creatively.
Lastly, go for the animated photos, GIFs, or animated videos when it's possible! Let's aim to transport your learners or audiences to a different, fascinating world. For example, you can try playing a clip instead of displaying your educational content in text or displaying a scenario in a graphic format.
Make Responsive Visuals
You probably spend several hours looking for the suitable images and weaving them into the content. But your attempts might fail unless you add a responsive e-learning element. Don't bother using various tools to render those images. And right before publishing that course, ensure the photos to look flawless on many other devices. To do this, you will need to test them at first.
Both graphics and animations will make your whole illustration much clearer than ever. For examples, if your content is about human organs, let's use interactive media to explain the process more interestingly.
Select Appropriate Animation Styles
If you choose to use animations and videos, make sure that they won't be longer than five minutes. According to research, after five minutes of watching, the viewers tend to lose their focus on the video or animation content. It means that you can decrease the video content to 3 minutes.
With such duration, your clip will be more direct and informative at the same time. Don't be shy to break down the materials into little pieces, but only focus on the key points.
Last but not least, it's mostly about getting the right animation style for your e-learning. Any particular style can work as long as you successfully deliver your messages.
But what is the best type of animation you can choose for the course? Well, some great suggestions are 3D, 2D animation, motion-graphic animation, and whiteboard animation. For motion graphics, you possibly use them as the explainer clips that you often see on every commercial web page. They're mostly made by computer software and quite excellent at telling the stories and interpreting a complex topic.
​

Ultimate guide to create


​Awesome Educational Animation


for Online Courses
A 33-page eBook Guide:
- Choose the right style
- Create animations for educational purposes
- What to do if you don't have design or animation skills
Other Tips
Be more creative with the visuals you chose from the start. Don't be afraid of thinking out of the box and bring variety to your content. Here are a few striking ideas for making outstanding visuals that can take your e-learning course to the next level:
Use some creative points of views that expose the unknown
Add behind-the-scenes visual communication
To evoke powerful emotions, utilize sensory images to hit the learners' senses
Conclusion
Visual communication is one of the best ways to direct the viewer' attention without a doubt. It's an intelligent way to boost the quality of any content and make it more efficient for learners.  In this post, you found out helpful tips for engaging your learners with visual communication. All of these practices can deliver a memorable and fascinating e-learning experience for any audience.
Read Further: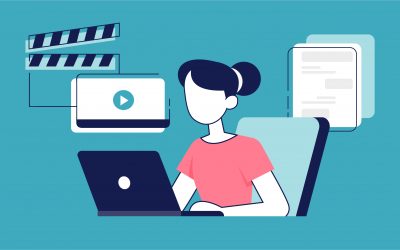 The script is the soul of a video, especially in the case of eLearning. Writing a normal script is easy as a piece of cake for educators or instructors. However, creating an educational animation script is a more challenging task. In this article, we'll share...